Bob Marley once sang, "Say, I want to give you some good, good loving. Turn your lights down low." Is it really that easy? Yes, there is no better way to set the mood then to dim the lights because the human mood is highly sensitive to any changes in light. Once the lights are lowered your environment becomes softer and more comfortable which is a great way to decrease stress and bring on a relaxing state of mind. Below are a few ways in which this can be accomplished so that you can create fireworks from low light levels!
1. Dimming The easiest fix to setting mood is the light dimmer. Dimmers can be found at a local hardware store and can be installed in the wall by an electrician or plugged into an outlet to use with a table or floor lamp. The newest technology from Lutron has remote-controlled dimmers so that you don't need to take a break from the moment when the mood changes!
2. Low Wattage Edison Style Bulbs Nothing says warm and classic like a vintage Edison style light bulb! Reminiscent of early 20th Century lighting they offer ambient illumination with a sophisticated twist. The popular Victorian, Squirrel Cage, and various Tubes look awesome in any clear glass fixture or when bunched together as bare bulbs!
3. Soft Filtered Light Effects The cinematic experience is excellent at setting tone and mood through the use of soft filtered light effects. Think long silky drapes gently moving in the wind or cascading over a four post bed. Pablo Pardo's Cortina lamp has an acrylic shade dressed in silk with interior lights aimed upwards for extra drama!
4. Colored Lighting Chromatherapy is an alternative medicine method utilizing different colors of light. Light in the form of color can be used to balance the emotional, spiritual, and mental energy of humans. Orange has alleged functions of emotions and sexuality, Green functions love and responsibility, and Blue functions physical and spiritual communication energies.
I think we all know that Red can be used for something more sinister! Philips Color Kinetics offers RGB (Red-Green-Blue) color changing fixtures that have thousands of color capabilities by mixing amounts of each color LED, done by an easy to use control, for whatever mood you're in!
5. Candles For a small romantic dinner, turn off the overhead recessed lights and light the table with candles. Candlelight seems like very low levels but your eyes will adjust accordingly. A tabletop candelabra is perfect for a dinner gathering or a more formal affair but if you want to set an intimate mood try dozens of votives spread throughout the room. Try using soy based clean burning candles that are renewable energy sources and have breathtaking aromatic senses.
6. Ventless Fireplaces A couple wanting to enjoy a romantic and passionate night together need look no further than to sit in front of the fireplace to keep an evening burning bright. If you don't have a fireplace or outdoor fire pit try some of the new ventless fireplaces on the market that burn eco-friendly bioethanol which is clean burning alcohol with no hazardous fumes. Either a table top version or actual mini fireplace, these units can warm up the room and your night together!
7. Wall Sconces Lighting the wall can set a very comfortable cozy tone and does an excellent job of lighting faces and people better than recessed lighting. If you are in a pinch, grab some simple candelabra wall sconces with candles, but be careful of the wax dropping! Wall sconces are great for dining rooms, hallways, and master bathrooms and bedrooms. Installing wall sconces can be easier than you think if an electrical outlet is close by, consult an electrician.
8. Lighted Flowers The Light Garden is nature illuminated! They are revolutionizing the concept and style of interior lighting with the most diverse collection of illuminated floral design products. Whether it's pussy willows, mini roses, Chinese lanterns, orchids, or lilies you can see your favorite flower illuminated. These look great as bunches in a vase or can be strewn together to create a field of flowers in your bedroom!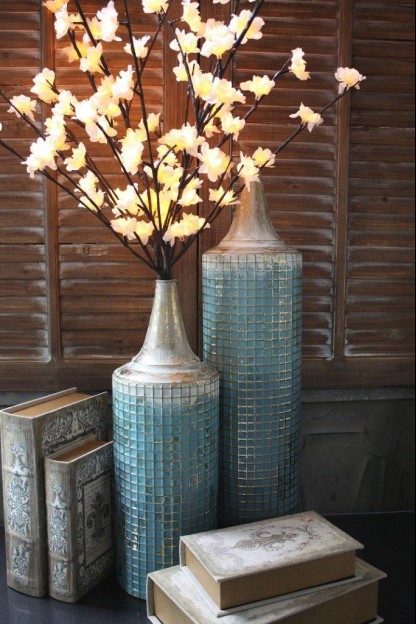 9. Accent Lamps Small, tiny table lamps made of glass or resin typically carry low-wattage light bulbs and can be the perfect amount of low level light for relaxing. Multiple amounts of small light levels placed throughout a room create an enchanting and magical atmosphere.
10. Clear Twinkle Lights Warning: Please be careful when placing Christmas lights in any interior environment, unless it's a dorm room this can turn the mood into the bad taste direction. Try using them in an indirect manner like behind furniture or on top of shelving.
Do not use colored Christmas lights for romantic mood unless it's the holiday season. Better yet, you may want to use this idea as a last ditch resort to look like you tried to plan some semblance of romance.
11. Turn the lights OFF!! Everyone knows the real magic happens when the lights go out!