Ceiling fans have an incredible impact on the perceived temperature of any space, including outdoor areas. Circulating fans create a wind chill effect that will make your room more comfortable, even if it's also cooled by natural ventilation or air conditioning. Ceiling fans are useful for cooling over when they move air over the skin, thus the goal is to design a system to feel the air. During chilly weather, a ceiling fan can distribute heat throughout your home, too. Our tips below will help you pick the right fan for your area to maximize air flow and the cooling or warming effect desired.
CEILING FAN LOCATION
Where you will install your fan will guide you to which fan rating you will need.

Indoor locations: choose any dry, damp, or wet fan rating. Some dry-rated fans cannot withstand direct water exposure or moisture, so they may not be the best choice for bathrooms and laundry rooms. And, definitely do not place them outside.

Outdoor covered or high-humidity indoor location: choose any damp or wet rated fan. Pick a model with the appropriate Underwriters Laboratories (UL) and Electrical Testing Laboratories (ETL) damp or wet rating. Otherwise, technical difficulties with the fan can arise.

Outdoor location with likely direct contact with water: choose only wet rated fans. Pick a model with the appropriate Underwriters Laboratories (UL) and Electrical Testing Laboratories (ETL) wet rating. Otherwise, technical difficulties with the fan can arise.
CEILING FAN SIZE
What size ceiling fan should I get for my area? The size of your room can help determine the size of your fan, however, scale is a personal preference.
The amount of air circulated by a ceiling fan is determined by its diameter. Larger rooms require fans with larger diameters, while smaller spaces require fans with smaller diameters: Larger ceiling fans can move more air than smaller fans. A smaller 36- or 44-inch diameter fan will cool rooms up to 225 square feet, while fans that are 52 inches or more should be used in larger rooms. Multiple fans work best in rooms longer than 18 feet.
Small rooms (10' x 10' or smaller)
36 - 42 Inches
Medium rooms (up to 15' x 15')
42 - 52 Inches
Large rooms (20' x 20')
56 - 72 Inches
Great rooms (20' +)
60 - 96 Inches or use multiple large fans

CEILING FAN HEIGHT
What height should I hang my ceiling fan and what downrod do I need? The general rule of thumb is to set the blades 8 to 11 feet off the floor, and this is determined by the height of the ceiling, the room dimensions, and the aesthetics.
The optimum mounting height for a ceiling fan is 8 to 9 feet above the floor, with a minimum of 7 feet to the bottom of the blades for safety.Ceiling fans are only appropriate in rooms with ceilings at least eight feet high. Fans work best when the blades are 7 to 9 feet above the floor and 10 to 12 inches below the ceiling. Fans should be installed so their blades are no closer than 8 inches from the ceiling and 18 inches from the walls.
SLOPED OR VAULTED CEILINGS
What is the degree of my ceiling pitch? Yikes, do you remember rise over run from school?
Simple calculation will set you up:
1. Measure the height of the highest point of ceiling, then subtract the height of the lowest point of the ceiling. This is your rise.
2. Measure the length (across the floor) from the lowest ceiling point to the highest ceiling point. This is your run.
3. Divide the rise/run = the pitch (in degrees) of your ceiling.
For example. 8' high ceiling vaults up to 12'. 10-8 = rise of 4. The length from the low point in room to room at high point is 15'. Thus divide 4/15 = 26.6 degrees.
*Ceiling fans hang by a rod and ball and are inherently slope adaptable to some degree, typically up to 25-30 degrees. Thus, your ceiling fan may only need a sloped ceiling adapter if you have a severe pitch.
CEILING FAN MOTOR
What is the difference between and AC and DC ceiling fan motor? Ceiling fan motors are available in AC (Alternating Current) or DC (Direct Current) motors. The difference is how the motors handle the electrical current they receive
DC motors offer significant energy savings, consuming up to 57% less energy compared to AC ceiling fans. This means reduced operating costs and a minimized environmental impact. These highly-efficient ceiling fans also boast more speed options, faster acceleration, extremely balanced construction, and incredibly quiet operation.
AC motors are the classic motors we have known historically to be very reliable, and much more economical. They typically have 3 to 4 speeds.
CEILING FAN AIRFLOW (PERFORMANCE)
What is CFM for a ceiling fan? CFM (cubic feet per minute) is the measurement of how much air is moved by a ceiling fan in a minute when running at low or high speed. Keep in mind that this measurement of air flow is important when comparing air conditioning systems or heating units.
More energy-efficient ceiling fans produce higher airflow while consuming less energy than standard fans. Higher CFM ratings can be achieved by pitching blades at the maximum possible angles and custom-engineering motors.
Factors that contribute to better airflow are:
RPM (Rotations per Minute) refers to the number of times the fans make a full rotation every minute.
Larger blade lengths, simply put, produce more air.
The Blade Pitch is the angle of the blade, the steeper the angle the more air gets scooped and moved. Typical blade pitches are 12-14"
CFM is the only number regulated as a standard throughout the industry. Usually a higher CFM rating on any sized fan is the best way to go. Therefore, base your ceiling fan size on the size room the fan will be installed in, and then look for the highest CFM rating you can find, in a style ceiling fan you like.
| | |
| --- | --- |
| Size of Room | CFM Goal |
| Small 10' x 10' | 2500-3500 |
| Medium 12' x 12' | 3000-5000 |
| Large 15' x 15' | 4000-7000 |
| Great 20' x 20' | 6000-10000 |
CEILING FAN ENERGY-EFFICIENCY
Is my ceiling fan energy efficient? Ceiling fans are the most economical way to cool your space during the summer months. Fans help keep you cool and eliminate prolonged use of air conditioning systems, which saves a lot of energy and money.
The energy-efficiency of a fan is measured in CFM (cubic feet per minute) per watt. Calculation: CFM/Watts
Ceiling fans that have earned the ENERGY STAR meet strict energy-efficiency, quality, and performance criteria set by the US Environmental Protection Agency, tested by accredited labs, and certified by a third party
ENERGY STAR MOST EFFICIENT CEILING FANS 2020
CEILING FAN CONTROL
How can I control my ceiling fan? You can control your fan based on your preferences by choosing a control system that's convenient and works best for you. Simple ceiling fan controls rely on a wall switch that lets you turn the fan on and off and adjust its speed with a toggle wall device. Handheld remote controls require a receiver in order to communicate with your fan what to do. Bluetooth and Wifi control allow you to control your phone from your phone or app in order to integrate with your climate control system or to simply put on a regular schedule.
Fan Speed Control - Simple speed control that installs onto your wall junction box and controls only fan speed through a variable speed fan switch. This device cannot control any lighting functions.
Wall Control 2-Wire vs. 3-Wire. - 2 wire is standard protocol in most homes and gives you the ability to install a wall control that controls both the fan speed and lighting via a receiver installed in the canopy of your ceiling fan, this can also work side by side with a handheld remote control unit. 3-wire control is for newer homes that had pre-wired for a ceiling fan in a location. This would allow you to install a 3-wire wall control to control both speed and lighting control without the need for a receiver in the ceiling fan canopy.
Hand-Held Remote Control - Remote controls are the ultimate in convenience, until you lose them:( Which is why it is sometimes great to get a combo wall/remote so you have two controls, great for a master bedroom. Remotes come with a factory set frequency and can be reprogrammed through dip switches or button sequences. Be careful, if you have multiple fans as they can have the same frequency and cause one fan to control another, not good. Remotes can have a range of 40 to 50 feet, set a unique address. If a ceiling junction box has no switch on the wall, the remote control is your only option, it becomes the switch, problem solved.
Bluetooth Control - Control your ceiling fan with your smartphone via Bluetooth. Allows easy speed control, light on/off; dimming and timer function. Program multiple phones for convenient fan control and control all the fans in your home from one place. Fanimation is one of many companies offering this Bluetooth connectivity.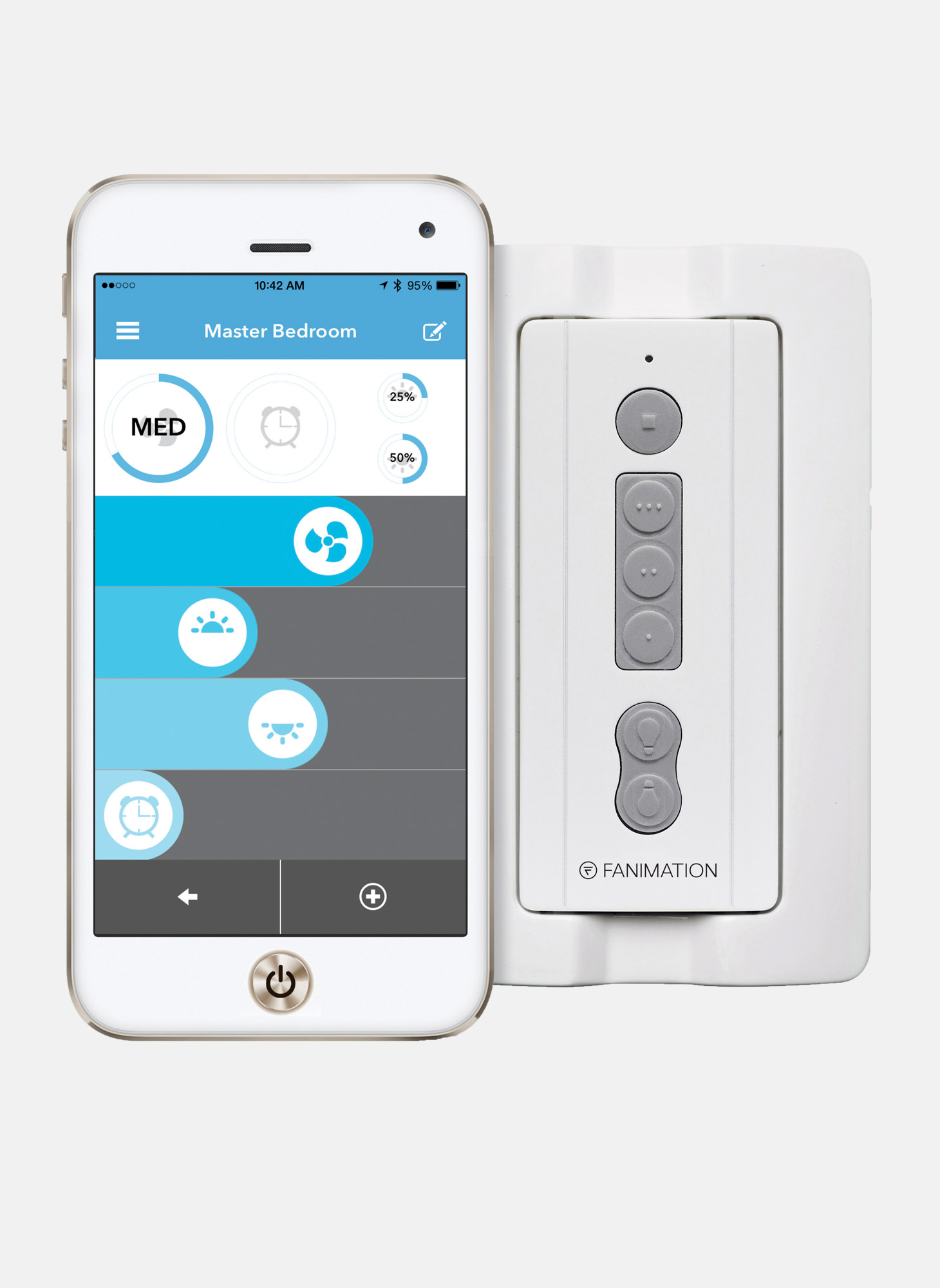 Wifi Control - Wi-Fi Touch Panel Wall Control from Modern Forms is the ultimate in smart fan control. Wifi fans can be connected easily to your smart systems including google home, alexa, samsung smart things, and ecobee, among others. This is also app based for easy control of your entire home's fans for programming, scheduling, and climate control integration. AC Motor fanSync WiFi (WFR50) from Universal Wifi AC fans is universal and works with most brands of 3-speed AC ceiling fans.
Bond Wifi Control - The Bond is an exciting new piece of smart technology that allows you to control your ceiling fan from anywhere using your smart device, Amazon Echo, or Google Home. Smart out of the box, no hub required, you can easily upgrade existing appliances to be smart by using Bond technology as long as they have a working receiver. Bond fan control is currently working with Minka Aire fans and Oxygen fans.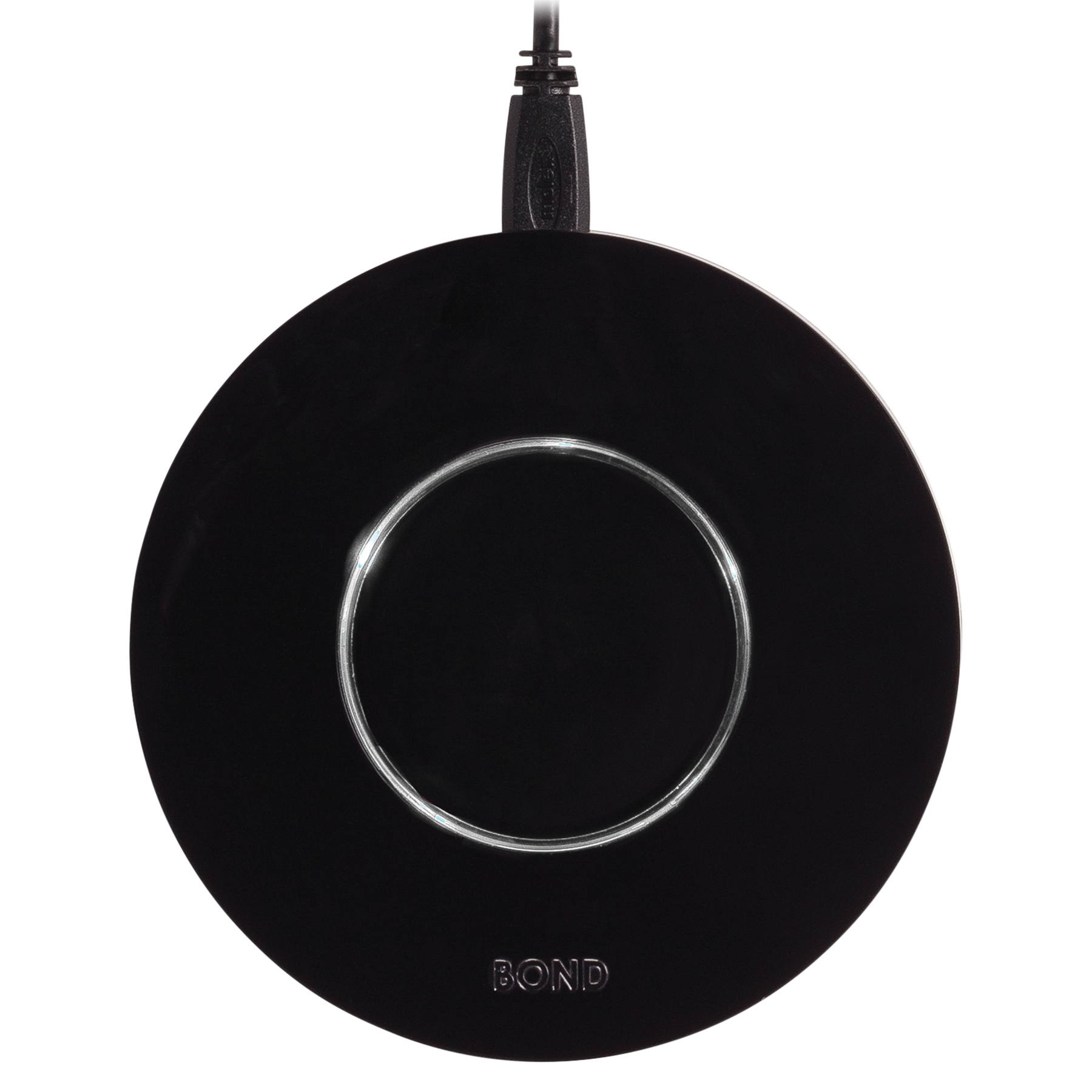 SMART CEILING FANS
What does a smart ceiling fan do? Most of them you can talk to with voice control, some even talk back!
Smart ceiling fans first and foremost can pair with your other smart home tech you know and love, including Google Assistant, Amazon Alexa, Samsung Smart Things, and Ecobee.
You can easily control fan speed, use smart features like Adaptive Learning, create groups, and reduce energy costs.
The Haiku Fan's Sensme technology has a built-in motion sensor that turns the fan on or off without hassle, while environmental sensors constantly monitor your room's conditions. You simply set your preferences and SenseME automation manages the airflow and light needed to keep you comfortable.
CEILING FAN STYLES
A more expensive fan that operates quietly and smoothly will probably offer more trouble-free service than cheaper units. Check the noise ratings, and, if possible, listen to your fan in operation before you buy it.
There are many different styles of fans from simple clean modern, to palm frond leaf island fans. The fan style that is right for your place will be a reflection of your environments personality.
If you are in the Los Angeles area please stop by to see fans and finishes in person at our stores in Santa Monica, Manhattan Beach, or Costa Mesa inside Soco, the South Coast Collection. We strive to be the best Los Angeles fan store and Orange County fan showroom in California!
If you are not in the area, please check out our website at lightopiaonline.com or call us at 877-559-7516
SEASONAL FAN USE

We're here to provide you with perfect air- filled moments and help you save on energy costs ALL year round, day or night, rain or shine! That's why ceiling fans have a reverse function which circulates warm air back towards the floor without any noticeable draft, causing an even air and temperature distribution in your room at lower set temperatures on your thermostat.
Summer Clockwise Rotation Winter Counter-Clockwise Rotation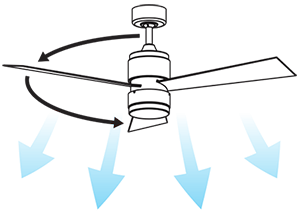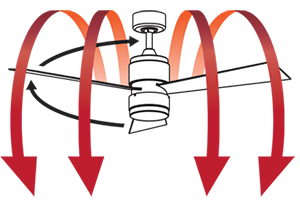 If you have any questions about ceiling fans or are looking to purchase ceiling fans for your home or business please call a Lightopia fan specialist today!