Now is the time to get outside and get to know each other once again! Get ready to fill up your Summer social calendar and create your very own backyard oasis. When it comes to creating the perfect backyard for entertaining, there are a lot of things you can do to make your area beautiful and functional. In order to help your efforts we have come up with a hot list of backyard must haves for those must have get togethers that are back in full swing.
Jellie Dreams
If you are looking for playful, innovative, functional, and damage free, look no further than the Jellies from Kartell. These iconic, sophisticated, and, not so light weight, plate ware are made of mass-colored pmma (Poly methyl methacrylate), think acrylic glass, for indoor or outdoor use. It's the look of crystal and the beauty of nature wrapped into the most stunning pieces that will make any outdoor event pop! Why are the named jellies? . The line's individuality is down to the fact that each model presents a different pattern inspired by the molds that were once used for making jellies. A comprehensive line of plates, trays, glasses, bowls, carafes, coffee cups and sugar bowls.
Portable Light + Music
The revolutionary UMA Sound Lantern by Pablo redefines the portable lantern for the modern age. Fusing state-of-the-art Warm Dim LED technology with 360° high fidelity surround sound, UMA provides a one of a kind portable light + sound experience, integrated seamlessly into a strikingly elegant design. UMA pairs touch sensitive volume control with an intuitive full-range light control dial and features Bluetooth connectivity to stream the highest quality audio wirelessly from any mobile device. Invoking the primal symbol of the lantern and the warmth of a campfire, UMA is the perfect centerpiece for social gatherings and intimate moments indoor and out.
Half Empty Not Half Full
Empty lamps form part of the 'Furniture meets light' concept created for Vibia, produced in Spain. The collection, designed by Xuclà, aims to integrate a light fixture and table or stool module within a single piece of furniture. Empty is a series of different pieces of varying sizes that can be adapted to outdoor use both for garden and terrace areas. The polymer concrete construction will ensure durability in even the harshest of environments.
Lights Sabers
Visually stimulating and housed within an unconventional silicone lens, PureEdge's Flexible Saber Line is Tension hung offering flexible installation and conceptual yet functional design. Available in customized formats with many LED options including warm-dim led, rgb color, and tunable white. Create the perfect soothing atmostphere or a fun and lively entertainment area with lights and color. This wet location system is designed to be installed year round.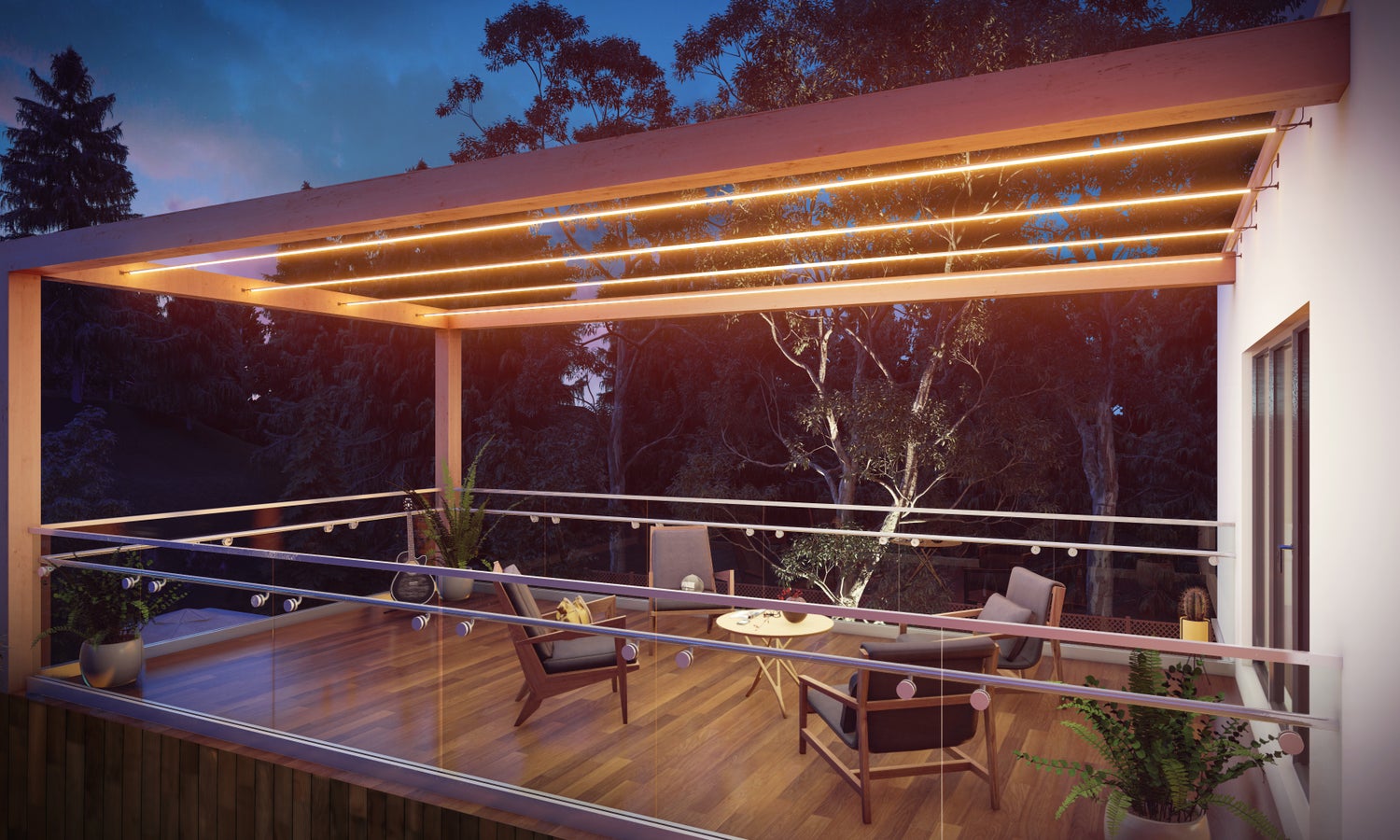 Colony of Catails
The stunning Sypha LED series from Catellani & Smith is our best idea of the year for any outdoor space. Designed by Enzo Catellani as his first collection of outdoor lights in response to the trend has seen living spaces move outside intoe terraces and gardens, creating extensions of the house. The Syphasefera and Syphasera collections, thanks to their minimal design, integrate perfectly with the surrounding environment, as if they were part of nature itself.
Landscape Vibrations
This innovative approach from SPJ Lighting can help create the ultimate outdoor living experience for you. The path light and wall mounted fixtures are complete with marine grade solid brass or copper alloy and state of the art LED lighting. Their complete system includes a sub woofer that you bury in your yard, an amplifier, and speakers for superior surround sound in your yard. Warm white color as well as RGBW state of the art technology enables you to create limitless possibilities.
String Lights with Style
The Adapt Litesphere series from Tivoli updates the classic light string fixture with many stunning glass globe options and LED technology to create a vibrant outdoor space. Create your own classic look with this completely customizable system featuring shatterproof UV stabilized polycarbonate globes and black or white wire with multiple spacing and LED lighting options.
My Muse
An exclusive collaboration between Tala and iconic color experts, Farrow & Ball, The Muse is a timeless portable light for the home. Recalling the promise and grandeur of the British pleasure garden, The Muse mixes the classic lantern aesthetic with ultra-modern technology. Designed to be repaired over time, it features cordless long-life battery, Dim to Warm LED technology and a custom integrated dimmer.
Capture the Fire
The new LED flame lantern by Focus Industries intends to do just that! This solid brass lantern with many optional glass lenses and metal patterns can simulate a candle flame to create the perfect ambience without worrying about burning down your house. The USB charging station and remote control allows you to remotely turn off and on your very warm white (1400-1600 degree kelvin) light source with the touch of a button. With 20 hours of light on each charge, you have your choice of flame, solid light, breath, or dimmed. Customizable with finish of your choice.
Lantern Love
Relax and light up the night with the iconic lantern led portable light by Kartell. Fully chargeable with 8 hours o of light this bright, colorful, and decorative looks great sitting on a table, step, or next to furniture.
Tie it all together!
Lights, camera, action. If something is missing in your outdoor area and you just can't put your finger on it, it could be the anchor that holds down your entire room, an area rug. So tie your space together with an outdoor rug from rugsdirect.com, carrying fashionable rugs specifically made for exterior spaces, the perfect finishing touch!