Another year, another set of lighting ideas coming to fruition. Apparently everyone had plenty of lab time in 2020 to design, tinker, and develop provoking architectural lighting products. Lighting innovation plays within both worlds of form and function, but leans towards providing functional light for spaces. At the foundation of most invention is identifying a need, understanding the need, then creating a solution. In 2021, we realize there is a need to talk to your lighting, vanish your lighting, keep it incredibly small, continue with newer lines of linear light, and blur the difference between natural light and artificial light until they become one. Read on to see our top 10 architectural lights of 2021!
Goodbye festival lights and hello tension hung linear led! This silicone wrapped wet rated led tube is attached to a cable catenary system to create a strong illumination across any space. Featuring warm dim and tunable white led, there are independent controls for color temperature and brightness. Bending up and down, Saber can be mounted wall to wall, floor to ceiling, or wall to ceiling. With a continuous glow of illumination, this soft line of light is sure to provide uniform light for any exterior space.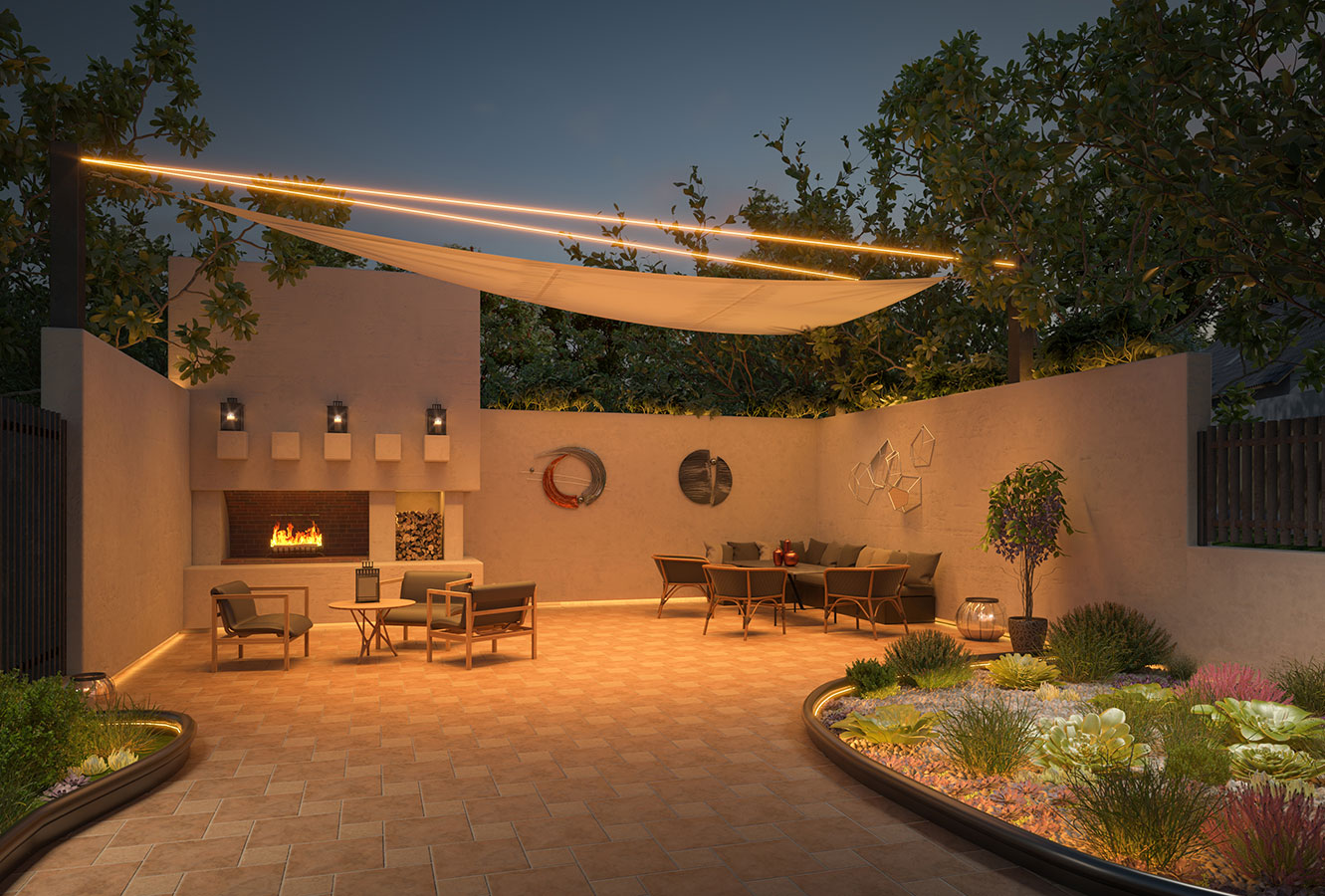 2. Softform
Standing at the intersection of lighting and biophilic design, softform uses fabric as it's medium for light diffusion. Softform uses large LED panels that can change color temperature that serve as the backdrop of Biophilic design. Biophilic design involves connecting humans to the outdoors by using ambient diffused lighting, viewing outdoor images of landscapes, seeing repetitive biomorphic forms of nature like sand dunes or ocean waves, and refuge of sound to offset noise in business or busy spaces.
You can barely even see the light aperture with just a 1/2" opening, it's smaller than the size of a penny, smaller than a dime! It's impossibly tiny and extremely bright, pumping out over 1100 lumens of beautiful quiet downlight. Anything smaller would be a laser. Contrary to a laser line of light, Whisper can produce 50 or 30 degree beam spreads for the ultimate quiet ceiling.
4. Lightglass
Transform your windowless space with the experience of emulated daylight wherever you like. Wallglass and Skyglass are luminaires that look and feel like windows, clerestories, and skylights. If you're looking for a lighting installation that promotes well being, simulates nature, and provides depth and interest to a closed off space, LIGHTGLASS can be the answer. Focusing on Biophilic design, LIGHTGLASS can color tune to align with the circadian rhythm of life and keep occupants centered and balanced.
Solving the number 1 problem customers have when purchasing lighting: "Do we need to have that ugly canopy on the ceiling?" Yes, it covers the electrical connection and is necessary...until now! The Vanishing Point 120VAC Pendant Connection System is a groundbreaking innovation, changing the way the world sees luminaires. The cord grip system is the only genuinely trimless and flush, allowing pendants to disappear into the ceiling. Mounting options available for both drywall and millwork ceilings, designed for 120VAC cord suspended fixtures. The epitome of refinement, the Vanishing Point Cord Connection System, eliminates the unattractive, bulky, and outdated canopy achieving a minimal and continuous architecture. Corded pendant/ suspension fixtures sold separately.
6. Juno AI
The Juno AI recessed can does everything you want and more, much more. This smart home enabled recessed led downlight has integrated Alexa built in so that it's easy to create your own mesh network throughout your home. Alexa is always listening so you can do a number of things with the Juno AI including streaming your music in any space, changing the lighting, and asking Alexa questions. The ultimate in voice control allows color tuning with Juno AI, so that you can have warm white at night and cool light during the day. The only thing Juno AI doesn't do is make dinner. You can now easily have a smart home ecosystem and control over 200 devices with one product that is already throughout your home, on the ceiling. Smart.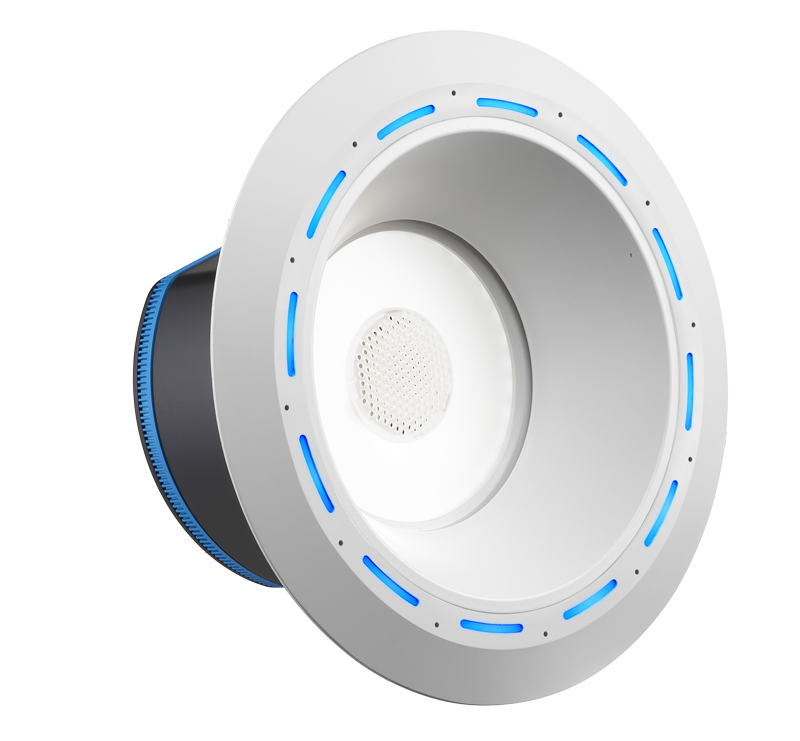 7. Razorline by Alloy Lighting
Update: LED tape light gets even smaller! Although, not quite as thin as a human hair, it is about the width of a pencil and is designed to fit in the most compact of spaces. At only 0.16 in. wide, RazorLine 3.7 offers medium-output lighting for the most compact spaces. Its tight diode pitch provides smooth lighting for places where other tape lights can't fit. This is the perfect solution for display cases, drawers, and other applications with limited surface area.
Strut is a complete recessed, surface, or suspended architectural channel program with direct, indirect, wall wash, downlights, spotlights, and pendants. What makes this industrial solution incredibly effective is the independent control of elements and the ability to change and shift at a moments notice. Strut can work for retail, hospitality, office, or residential lighting problems.
9. Micro Spike by LuxR Lighting
This miniature low-voltage exterior led light is about the size of a ballpoint pen but don't let it's size fool you. In the ever camouflaging environment of architectural landscape lighting, the Micro Spike will dissappear in plain sight! Made from marine grade 316 stainless steel or copper this IP68 rated fixture is rated for the harshest of exteriors. The optical choices are micro spot, 180 degree band for uplighting shrubbery, or 360 degree uplight. Ideal for planters.
10. Lazer Line by Pure Edge Lighting
We certainly saved the best for last! Lazer line from Pure Edge lighting solves so many architectural lighting problems while also creating a spectacular sculptural light form in any space. Lazer Line 1/2" wide aluminum tape is a Direct and/or Indirect LED Lighting System that provides general illumination for architectural applications. Turnbuckles and anchors can be mounted wall to wall or ceiling to floor or ceiling to wall. Turnbuckles allow Lazer Line to be positioned 0-60º relative to the mounting surface, creating a 3-dimensional look that is as functional as it is visually interesting. Feed power from one or both ends for longer lengths. Mounts to standard 4" square junction box with round plaster ring, Paint canopy to blend into wall for a seamless look. For compact shipment and storage, Lazer Line coils like a retractable tape measure. When uncoiled, Lazer Line becomes a 0.5 inch wide, channel that spans opposing surfaces. The field-cuttable channel allows continual lengths up to 60 feet with power feeds at each end. Includes a 5 year pro-rated warranty.